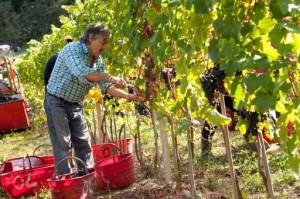 For someone with a home vineyard the most important and what is also probably the most hectic and stressful task, is harvesting time.
Harvest comes once every year and making the necessary preparations is the key to a successful harvest day. You can shop for vineyard supplies at Cameron &Cameron Inc. for the most reliable products.
Not At The Last Minute
Your prep starts 7 days before the harvest time. Your job is to get the weather report, get a week's forecast. You are looking for whether the day you picked for harvest is under threat by Mother Nature. If it is you will have to make small changes to your harvest plans.  Getting the fruit out of the field before the weather conditions present a torrent of rain over the field is one additional thing that you may have to do.
Tend To Your Vineyard
There is no point picking in a vineyard that is suffocated by weeds and the equipment that you allow lying around just because it is more convenient for you. Remember the basic rule of anything, the cleaner the place the easier the task. Apart from de cluttering the rows you need to make sure that you fill holes in the ground so that your busy pickers do not trip and hurt themselves.
You Need Pickers, Start With Volunteers
Anyone can volunteer as pickers. Remember when you are deciding on the date of the harvest don't pick one according to when you are free but a date that suits the fruit that will be harvested. Let all your friends know that you are looking for volunteer pickers. Put out an email, professional pickers do the standard ton a day but volunteers can usually do up to a quarter of that. Offer a brunch or something after an hour of picking. The idea is to make the whole practice look as fun as possible.
You can also attract pickers by offering them a morning of wine education and vineyard fun.
Check Again
You need to confirm the details one last time. The 24 hours before you time of harvest make sure that your fruit is in perfect condition. You can do this by making sure one last time that the fruit has the accurate level of ripeness.
This also helps you decide whether you will have to pick the grapes earlier than the time you decided if you see the acid plummeting in the fruit. If you are practicing home wine making than a refractometer should be good enough to give you an exact measure of for making a Brix based decision.